Today we met Barbara, our Toledo guide, for the Prado tour, three hours of amazing art, Barbara's knowledgeable insights and lots of standing. Tiring but so worth it!
Bosch's triptych 'The Garden of Earthly Delights' started us off with a powerful, detailed religious painting famously  filled with crazy details, especially of the Hell that awaits the wicked.  I was particularly struck by its bubblegum pink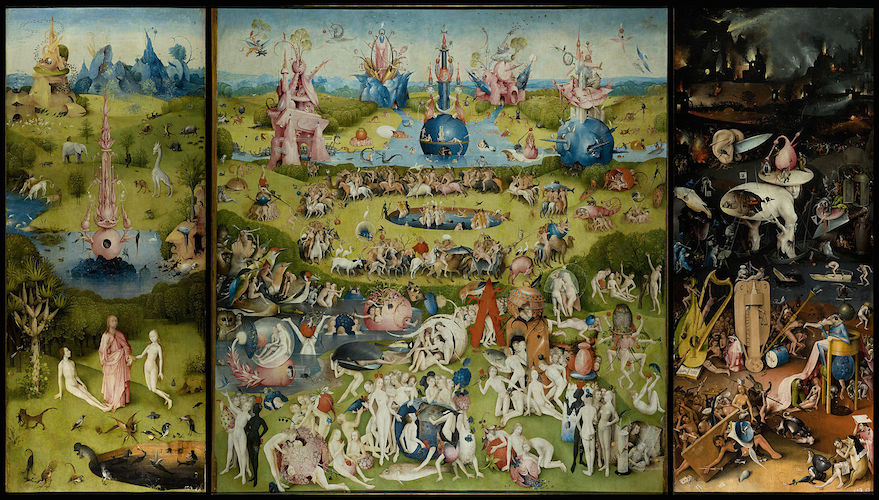 details, which don't really show up in this tiny image, but you get the drift.
From here, Barbara took us chronologically through the collection. Roger van der Weiden's Deposition of Jesus is the best painting I've ever seen that I knew nothing about (not that that's unusual, I am still a novice when it comes to art).
Large figures, faces each individualized, richly colored clothing, and a human sense of scale. It's truly stunning in person.
We saw lots of Rubens, who I must remember is Flemish. I asked Barbara how to know a Rubens (especially for those of us think of Renoir when we hear his name) and she said to look for lots of color and a dynamic design with lots of movement. Got it!  Here's an example: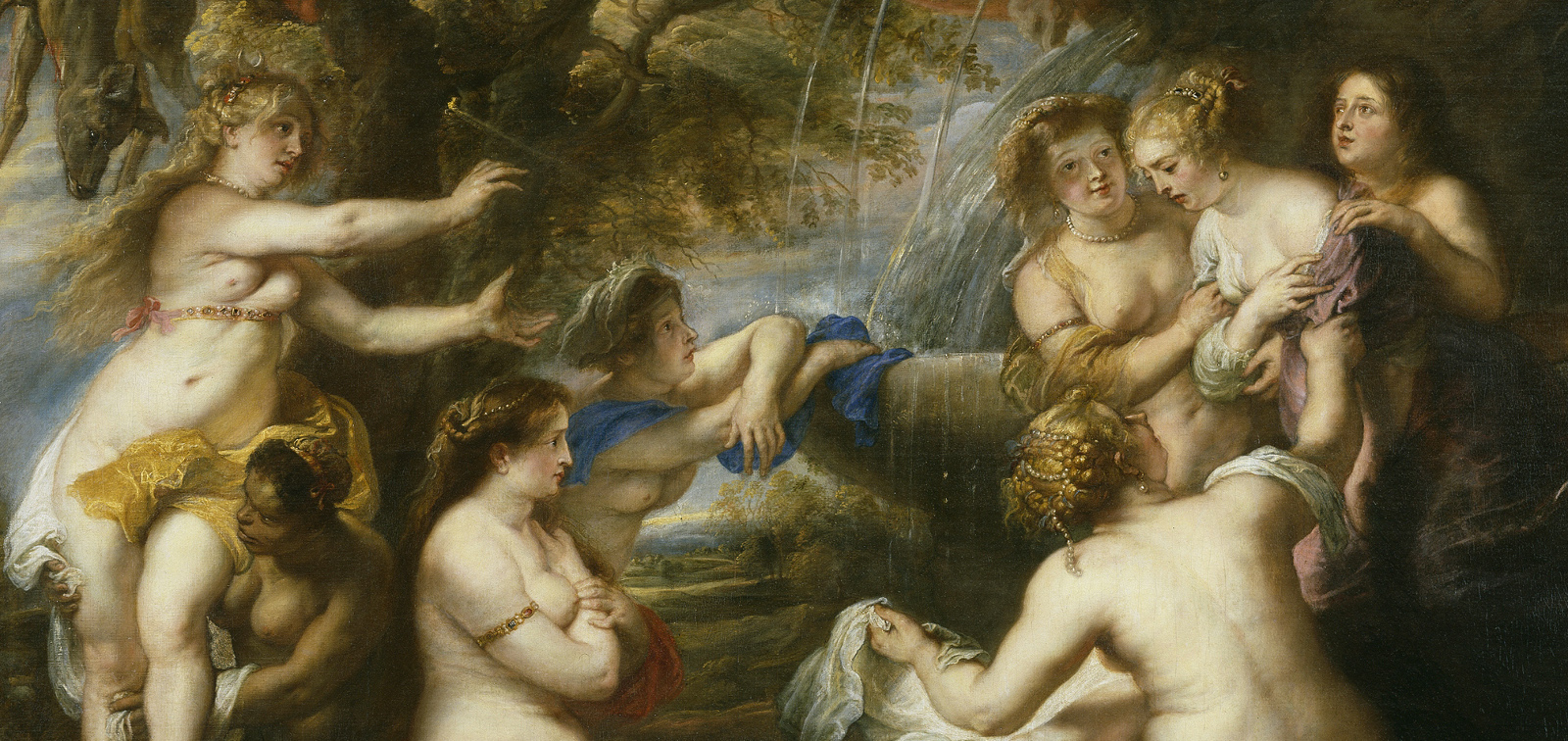 The real highlight for me was the Velazquez collection, now that I've read The Vanishing Velazquez. The small painting of a wall in Italy was as wonderful as the author had promised, very reminiscent in its stillness and gem-like quality of Vermeer's The Little Street.  It really has to be seen in person.
I also admired the man with outflung arm.   Is he an actor?
Las Meninas is a puzzle picture – who are these people and what are they doing? – more than an emotional one. 
Cumming describes it beautifully in her book, and it's one to go back to over and over.
That room is also filled with portraits of Habsburgs with their unfortunate chins.
At the end of the tour, we bade farewell to Barbara, who told Alison about a Fra Angelico exhibit coming to the Prado next year – will we come back? – and we had lunch in the cafeteria before going back to revisit Senor V. We found The Surrender at Breda
plus the so-called "buffoons" or dwarves in all their humanity.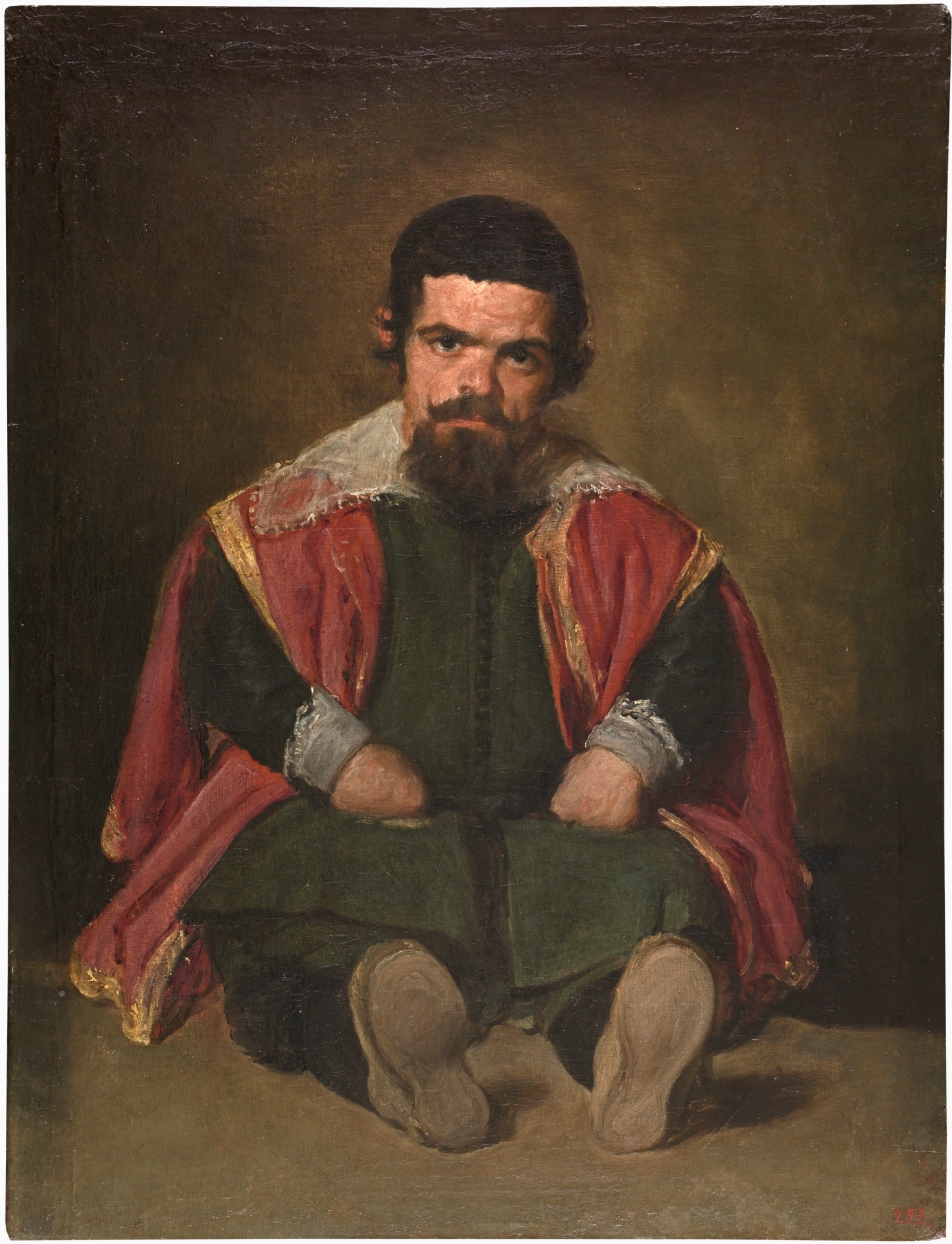 Despite our museum fatigue, we headed for the Reina Sofia museum around the corner and its modern art. We started dutifully with the Surrealists and then went straight to Guernica, whose scale is not conveyed with this thumbnail image.
There's a big buildup to the painting, which I had last seen in New York when I was a teenager, diaplaying Dora Maas's photos of the work in progress and plenty of political and artistic runups to the art. Guernica (Ger NEEK a) was one of the first mass casualties of civilians, carried out by Hitler with Franco's assent, a truly horrendous act. I'm so glad to have seen it again and must find a good book on the Spanish Civil War to understand the whole thing better.
We were truly exhausted by this point, so we had a drink and went back to our old favorite tapas place, La Abuela, for shrimp, followed by a second trip to Toni's. I meant to order mussels but ended up with anchovies, which luckily were quite good.
On the way home we ran into a protest in the street about sex trafficking. This in addition to a protest in the Puerto related to the disinterring of Franco from the valley of heroes to Madrid, and another one by young people in matching T-shirts to do with prisoners. Democracy is alive and well here!
[Note: Because the Prado prohibits all photos in all parts of the building, including the gift shop, these images are not mine but probably better than I would have managed.]